TWIST & SHOUT
This fun filled all-singing, all-dancing package is guaranteed to be a riot!
SHOREDITCH, LONDON
WHAT'S INCLUDED
THEMED DANCE CLASS
1 hour private class with professional dance teacher
Solo dance moment​ for the bride-to-be
Free themed accessories
PREMIUM BOTTOMLESS BRUNCH
One main from the brunch menu
Two hours pink prosecco, classic prosecco and rum punch
Make-Your-Own Bubbly Cocktail Kit – all you need to make lots of Strawberry Royale, Bellini, Mimosa, Kir Royale and Empress Cocktails
LUCKY VOICE KARAOKE
Two hour use of private karaoke room/s
MAMA SHELTER STAYOVER
One nights stay in double, triple or quad rooms
Luxury Linens
Free movies
Organic solid amenities
What You Need To Know
This fun filled all-singing, all-dancing package is guaranteed to be a riot!
1pm – 2pm KICK START THE PARTY WITH A DANCE CLASS
You'll kick things off with a themed dance class in a private studio in East London – the perfect ice breaker, and guaranteed to get everyone warmed up and in the party mood. Whether you wanna whip your hair like Beyonce, slam it to the left and shake it to the right with a 90's girl band megamix, or have the time of your life with a Dirty Dancing-inspired class, we've got you covered.
The choreography is designed for all abilities, and there's a whole catalogue of current and classic pop tunes that are guaranteed to get your day buzzing and vibing. The class also includes free themed accessories, so you're all looking the part!
2pm – 4pm CHECK IN TO MAMA SHELTER
After brunch you can head to nearby Mama Shelter to have a drink at the super cool bar and wait to check into your rooms at 3pm for a freshen up. Mama has channeled her inner-cool and set up a home from home in the capital's hip East. Designed with comfort in mind, each is a sanctuary, with all the needs of modern-luxury living including luxury linens and organic toiletries. Each room features a quirky & vibrant style – with the quad and triple rooms being perfect for large group stays! Then it's time to take a short bus or taxi (8 mins) for a premium bottomless brunch at Serata Hall, a gorgeous upscale urban bar in Old Street.
4pm – 6pm PREMIUM BOTTOMLESS BRUNCH
Enjoy the surroundings whilst the DJ's spin disco all afternoon and into the evening. Indulge in a main from an Italian brunch menu including the likes of truffle tagliatelle, slow beef rigatoni, house fried chicken and wood oven pizza's.
The brunch includes two hours of premium bottomless drinks – prosecco cocktails, white and pink prosecco or Serata rum punch (over-proof and dark rums, rosemary & lime). You'll also receive a "Make-Your-Own Bubbly Cocktail Kit" – with all you need to make lots of Strawberry Royale, Bellini, Mimosa, Kir Royale and Empress Cocktails.
6.30pm – 8.30pm SING YOUR HEARTS OUT
After brunch the group will take the train one stop from Old Street to Lucky Voice Islington. Cut loose, be yourself and truly sing your heart out in your own private karaoke room. Fancy a drink? Enjoy room service from the extensive cocktail menu using the iconic "THIRSTY" button. They've also got a selection of pizza and bar snacks for a late night refuel. After karaoke you can head back to the hotel for drinks at the bar, or head out into the buzzing East London nightlife!
SUNDAY MORNING
Checkout on Sunday isn't until midday, so you can spend the morning easing the hangover in the uber cool bedrooms, or exploring the local East London area.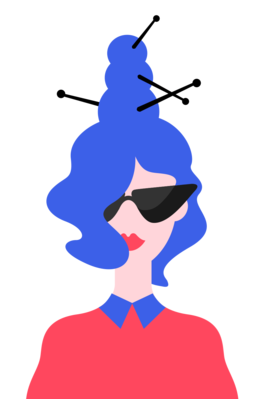 HEY GIRL, NEED UNIQUE HEN PARTY IDEAS?
We created CLUCK for cool women with great taste. So what are you waiting for? Get in touch.
CALL US
QUICK ENQUIRY